22 Years of Trust, Dedication and Quality
To some, these might be just words. But at RADIX, these are the Pillars on which we established our business nearly 22 years ago.
Radix

- Journey So Far

The company started out by manufacturing Inverter batteries in 2001 and has grown to become one of the largest manufacturers and exporters of batteries in the subcontinent today. It has since grown steadily, modernised its manufacturing processes and taken bold initiatives on the service front. Constant innovations have not only helped the company to produce the largest range of batteries but also to cover various technology configurations.

Over 22 Years of experience, countless hours of service and our customers support is the secret to our success. We are the Radix Power Solutions Company and we are preparing for new times and new challenges ahead!

We are Committed to creating extraordinary opportunities and making a difference to all that we touch & beyond! That is why we are always working to make lives easier..simpler..smarter …for YOU & FOR YOUR BUSINESS.. Not just today but also for tomorrow.

Today in 2023, Radix Power Solutions is the most preferred choice among consumers with a large product range of batteries across all verticals , we have batteries for Bike, Inverter, Automotive, E-rickshaw and Solar Batteries. Our nationwide network is serving over +10 Lakhs happy, satisfied & smiling customers Pan-India. Radix Power Solutions has grown from strength to strength to be one of UP's largest Battery manufacturing company. Our quality and after sales experience exceeds consumer's expectations and makes sure…Fit It & Forget It Experience! Our production facilities are centres of excellence where passion & innovative interests combine into creating a SUPERB & RELIABLE PRODUCTS.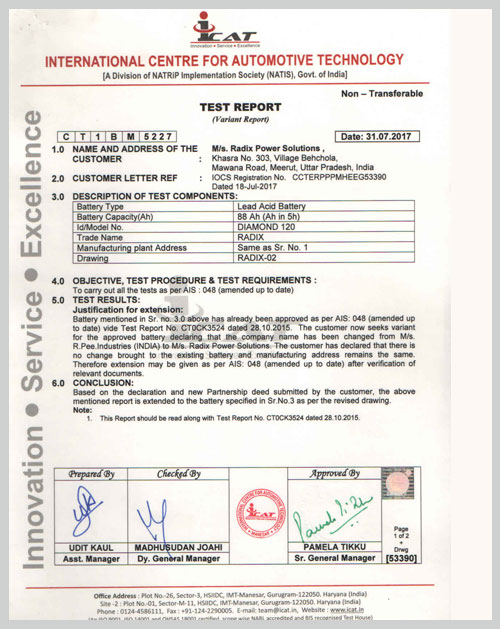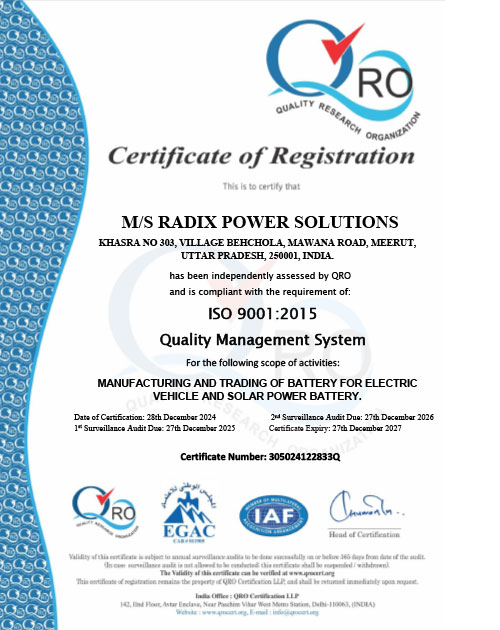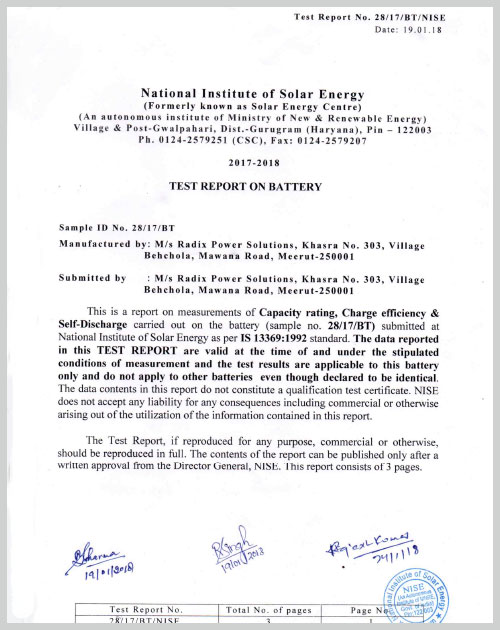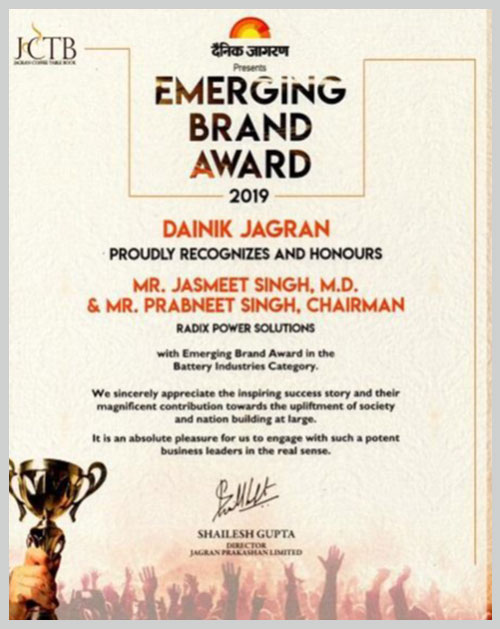 Our
Mission
Our mission is to manufacture the best in class Batteries of Inverters, Solar, E-Rickshaw and Automotive. We stand for our quality, service and customers.
Our
Vision
Our vision is to create a corporate entity emblematic of excellence, diversification and pioneering new technologies backed with customer satisfaction.
Quality

Statement

We deliver a consistent quality product on time - every time.
Inspirational

Leadership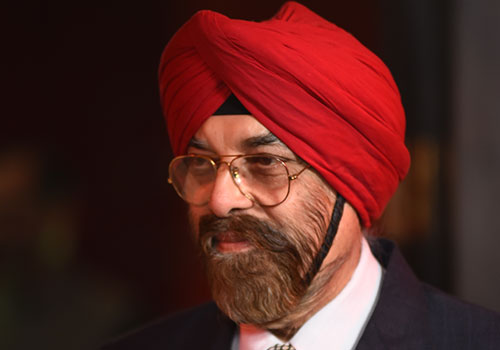 Mr. Ravinder Singh
Founder of Radix Power Solutions
Radix Power Solutions Company glorious past is attached to our revered founder Shri. Ravinder Singh aged 72 years who remains one of the most successful entrepreneurs in U.P.
Due to his initial long vision and relationship qualities the Radix Power Solutions Company came up in the business of Battery Manufacturing and established in 2001.
With the clear vision and leadership qualities he started a company with manufacturing inverter batteries in 2001, now in 2023 we are a leading brand in a Inverter, Solar, E-Rickshaw & Automotive Batteries in UP.
Due to Shri Ravinder Singh dedication & pious directions, we are able not only to expand our business networking but successful in providing quality products under the brand name 'Radix Power Solutions.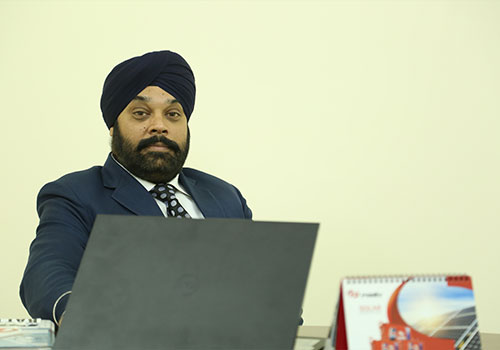 Mr. Prabneet Singh
Chairman & Partner
With more than 20 years of experience in industry Mr. Prabneet Singh is an inspirational leader who has taken the company from a humble start to current level where RADIX is the market leader in segment.
His vision is to create a corporate entity emblematic of excellence, diversification and pioneering new technologies backed with customer satisfaction. He believes that business has a social agenda, not just a profit agenda and hence lays greater emphasis on developing products and solutions that benefit the lives of people and communities.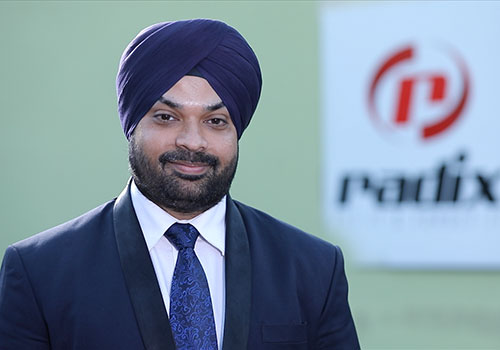 Mr. Jasmeet Singh
Managing Director & Partner
Mr Jasmeet Singh has been an integral part of RADIX growth story. For over 2 decades, he has steered the company to become a leading Batteries Manufacturing Company in India, and recognised globally. His vision, strategy and dynamic personality is what translates on a day to day basis to the rest of the team, and sets a culture of constant innovation and growth. With his rich 20 Years of experience in implementation, he takes additional responsibilities of opening and exploring challenging opportunities in the diversified family business.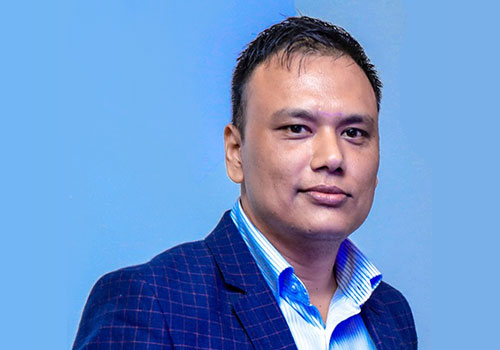 Mr. Devender Singh Rawat
General Manager - Sales
Mr. Devender has done his bachelor's in Science and completed his post-graduation in marketing from Symbiosis Institute of Management (Pune).
Having an experience of 15 years in world known organisation's like KSB Pumps, Gautam Solar & Luminous. He is responsible for driving all business strategy & development at Radix's in North India (Delhi, Haryana, UP & Uttrakhand).
He played a pivotal role in expanding Radix's Business. Continuously driving the company's agenda to popularize and skyrocket, he is focused on idea "A dream does not become reality through magic, it takes sweat, determination and hard work"
Within his working tenure, the company's market capitalization increased from 18 Cr to over 75 Cr in Uttar Pradesh , Making Radix one of the most demanding and valuable brand in North India.
Toll Free No.: 1800 1202 21300
© 2023 Radix | Site created & maintained by
Digilinkers